Mrs. UM Sokun 
Program Officer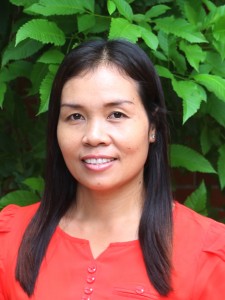 Mrs. Um Sokun joined Youth Star in June 2017 bringing with her over a decade of experience in social responsibility programs. Beginning as the prosthetist and orthoptist for Handicap International Belgium, Sokun was responsible for the design and production of artificial limbs, orthoses and other assistive devices for those with disabilities. This crucial service aided the improvement of functional loss and aimed to help with day to day living.
In 2011, Sokun worked in Safe Community Project for Chab Dai Coalition Organization. Here she conducted training on the issues of human trafficking, UN convention of Children's rights, and safe migration. These sessions were delivered to a wide network of relevant stakeholders (NGOs, government officials etc.) aiding their ability to empower vulnerable communities; particularly women and children.
Moving into her position as Program Officer at Youth Star, Ms. Sokun is excited promote and enhance program objectives in creating better opportunities through education for the most disadvantaged Cambodian youth.
Mrs. Sokun graduated with a bachelor's degree in Management, majoring in business administration.