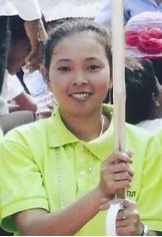 HO Chakriya, Volunteered at Youth Star August 2012 July 2013; she studied Sociology at the Prek Leap National School of Agriculture. She was based in Kampong Trabek district, Prey Veng Province.
She volunteered with Youth Star in order to be more independent, gain more experience, and to encourage young people to read and write and take part in community activities.
For Chakriya, it was hard at first and she didn't feel like a part of the community. When she first arrived at her school it was during school holidays and with no children attending classes, she and the local headmistress undertook to visit the houses of the children that had dropped out of school.
The community didn't offer much assistance as they were busy with income earning activities and since it was rice harvesting season many of the children were working in the fields.  Chakriya was however determined to make a difference and so she become more organized herself and gained the support of a high school student. Once she found people to help she started planning with the community chief. Through her community mapping, she learned how many children dropped out of school and even identified those children who were at risk or had been victims of human trafficking.
With the community chief she developed a plan to re-initiate a Youth Club with the aim of this time making it a sustainable enterprise. .
With the re-energizing of the youth club Chakriya started teaching the children and set up two libraries. These libraries are now so popular people even come on weekends.
There are now 21 youth club members aged 12 to 18 and they have created and manage a book club and promote the importance of reading and education. The youth club members play an active role in encouraging people to use the libraries and also raising awareness about domestic violence through role plays.
Chakriya said "I have learned a lot so far from my 12 months in the community and I feel more grown up, independent and better at negotiating. I now find it easy to talk with a range of people and assert my opinions and I can speak with authority about the things I know. I feel sad to leave my community and go back to city life as I have formed such strong friendships".