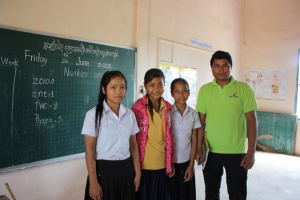 Bosba is the last child among her five siblings. I was so sad to learn that she was an orphan living with two of her siblings while the other two are working in Phnom Penh. Before a Youth Star volunteer came to her community, she was very reserved, lacking in confidence and shy – but very gentle. As she was busy, she couldn't perform well at school. Bosba was ranked 33rd among a total of 40 students in her class. She had no parents or relatives to encourage her to continue her studies.
Bosba did housework and worked part time to earn money. Due to the fact that she was malnourished, lacking in personal care and hygiene, she was often sick with typhoid and diarrhea—and often felt powerless and dizzy. As a Youth Star volunteer, my first assignment in her community was to do community mapping, collect data and statistics, and visit villagers' households. I became particularly interested in Bosba's family and frequently visited her and gave her motivation. As was the case with other children in the village, Bosba enjoyed interacting with the Youth Star volunteer. She then decided to study Khmer literature and English from me. As part of the teaching, I also taught her living sanitation which includes clean water and clean housing.
After becoming a member of the children's club, Bosba could join extra classes taught by small teachers and became actively involved in reading activities (using the Mobile Library Project supported by SIPAR) and awareness raising campaigns. I am proud to see her great change from a despairing young girl to an industrious, active and outstanding student. She is now ranked number six among a total of 40 students in her class. All her teachers pay her compliments and highly appreciate her hard work. From a girl who knew no English, Bosba can now read and speak basic English. She has become much healthier and more committed to school and does not want to quit school any more.