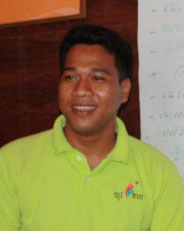 My name is Vannak. I am currently a Youth Star volunteer based in Changkrang Village, Changkrang Commune, Chetborey District, Kratie Province. I have been working there for six months. In 2014, I graduated from Royal University of Phnom Penh in Khmer Literature.
Upon my graduation, I had no idea of next steps in my life should due to the lack of working experience. I had been wandering around and seeking employment in different places but I found that none of the jobs fitted my interests and inspiration. The type of work I wanted was to develop my personal and professional ability and to contribute the society. I was encouraged by my sister, Uch Sithea herself a former Youth Star volunteer, to become a volunteer. It did not take long to decide and I made up my mind without any hesitation and joined Youth Star.
In the first six months of my service in the community, I could not believe how much I have developed in my thinking and understanding. The work taught me basic planning and communications skills including skills in report writing and how to be flexible in difficult situations, all of which built my self–confidence. My activities were very practical I was given the opportunity to mobilize and cooperate with young people in the community to successfully organize International Women's Day.
In addition, I work closely with the school and community partners to identify the kids who are slow learners and I offered extra classes for them. In the extra class, I play the role of a teacher to inspire their passion to learn and to help them solve homework exercises. I also keep track with both students' parents and teachers to see how their learning progresses. A major and remarkable change, as reported by school principle, is that most of the slow-learner students have started to attend the class regularly and they perform better at school. Through all the work, the local people have started to build more trust in me and allow me to form children club and launch the idea of vegetable yard.
One day my bike was deflated by students of mine who wanted me to have dinner with them at their home. Then I had to walk my bike for more than 7 km back home. I was not angry with them yet actually in fact I was very happy as I knew they really wanted me to stay. I am so proud that the community values me as an important resource to improve the education of children and youth. I have become more confident in myself and in the ability of others. I would like to wholeheartedly thank Youth Star Cambodia who provided me with such an opportunity to develop my practical skills, increase my experience and bring about positive change in the marginalized communities.