2013 was a year of strengthening, celebration and growth for Youth Star Cambodia. We worked to acknowledge and reward all the good work done so far by our volunteers, alumni and the Youth Star team, as well as to move forward and meet new challenges.
Group 17 successfully complete their placements
Our Group 17 volunteers lived with their local communities for one year and worked with their community leaders and residents to ositively engage with social issues. You can read about how this experience has affected them in their "Stories of Change". Some of their activities included: setting up Youth Clubs, providing educational support and running campaigns to promote gender-equality and to prevent gender based violence.
Two Youth Star volunteers each led two campaigns for the 'We are Good Men' campaign, supported by Paz y Desarollo (seen above), and the '16 Days of Activism Against Gender Violence', supported by UN Women (pictured below). Four hundred people in the local communities participated in these campaigns to raise awareness about violence against women and girls.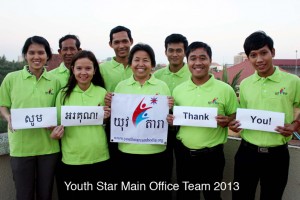 Youth Star comes first in the Global Giving Gateway Challenge. Youth Star was granted a bonus prize of £1,500 from Global Giving for the highest amount of money raised at £10,198. Thank you very much again to all our supporters!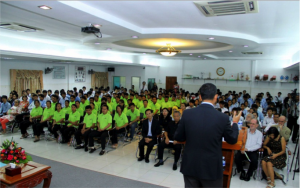 Youth Star put on its "Achievement Certificate Ceremony" to award our inspiring volunteers with certificates of completion for their 12-18 months of service. The event was attended by over 300 guests including 60 former volunteers. We were honoured to have the certificates presented by our Board of Directors member H.E. Dr. HUN Manet. We would also like to extend our thanks to Oknha Dr. Mengly J. QUACH, Board of Directors member, for hosting the event at the American Intercon School.
Youth Star Alumni put on a "Back to School" campaign to encourage parents to send their children to school. Youth Star Alumni have continued to show their commitment to the values and vision of Youth Star throughout the year through events such as this and their continuous support with current volunteers.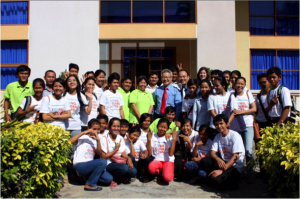 Forty Youth Star volunteers and alumni represented Youth Star at the International Volunteer Day forum amongst 600 other volunteers from local and international organisations. Youth Star was also honoured to have representatives from the United Nations Volunteer team travel to Kompong Thom province to visit the work of two of Youth Star's volunteers serving there.
Youth Star celebrated a busy year with our annual Gala– this time with a 'Roaring Twenties' theme. The Gala was a huge success; attended by 470 guests and raising over $37,000 for future Youth Star projects.