The focus of Youth Star's service program is to place university graduates as volunteer leaders in marginalized communities for one year, where they act as facilitators, tutors, mentors, and role models to children and young people.
We currently work in marginalized communities in 3 provinces of Cambodia: Prey Veng, Kratie, and Kompong Thom.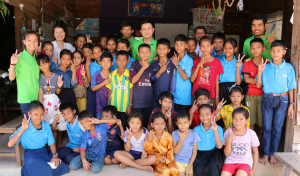 The main component​​ of the volunteer leaders' work is to increase literacy at village level and to equip young people with the tools to participate meaningfully in improving life in their communities. This work is largely done through children's and youth clubs. In some cases Volunteer Leaders teach in school, and also provide support to the teachers and the administration.
The Clubs' program focuses on three key learning areas; literacy, numeracy, and life skills.The goal is to prevent children at risk from dropping out of school, to improve learners academic performance and self-esteem, and ultimately to keep them on track to finish basic primary education, and move on to secondary, and tertiary levels according to their ability.  The Volunteer Leaders identify children at risk through tracking of class progression and attendance records in consultation with school and community authorities.  The Volunteer Leaders also help children and young people who have dropped out of school, to reintegrate back into the school system.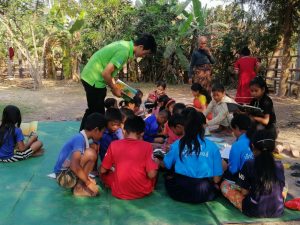 Club members learn valuable life skills and leadership skills through hands-on activities implemented in their communities such as implementing education campaigns to enroll all eligible children in school, work with commune councils, local technical experts and communities to ensure access to toilets in each school compound, mobilizing the community to ensure access to potable water and that each child has his/her birth certificate and "road to health" chart demonstrating access to immunization and identifying children faltering in their growth The Volunteer Leaders facilitates liaison with local authorities, and expert resource persons when needed.
An additional high-level goal is to offer University graduates service opportunities to contribute meaningfully to the development of their country, and gain valuable job related skills and experience.