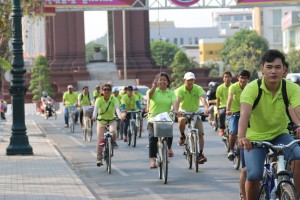 Former Youth Star volunteers and other citizens undertaking volunteer work will gather together in a bicycle ride on Sunday, March 06, 2016 to encourage volunteerism in society.
This event has been organized by former Youth Star volunteers who have completed their 12 month 'placement' helping to educate youth and children in marginalized rural Cambodian communities. These former volunteers, who maintain their support for the Youth Star model of promoting and undertaking volunteerism in Cambodian society, are hoping to raise awareness of how important volunteerism is to the future development of Cambodia.
Youth Star Cambodia is one of the pioneer organizations promoting volunteerism and youth development in Cambodia. Youth Star's aim is to empower Cambodian youth as volunteers to improve the quality of life in vulnerable communities through education and civic participation.
The bicycle ride will depart from Youth Star Cambodia's office located in the Tuol Kork area. The first 'pit stop' will be at the National Library, to help raise awareness of the importance of developing good reading habits. Volunteers will then ride to the statue of Cambodian Supreme Monk Samdech Chuon Nath, to commemorate his devotion to Khmer Literature, especially the development of the Khmer Dictionary.