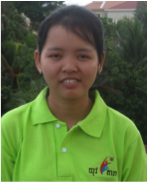 TY Sokunthy  studied Sociology at the Royal University of Phnom Pehn and is from Kampot, she began her placement with Youth Star in August. She volunteered at Kampong Leav district, Prey Veng Province.
She began volunteering in order to build up experience, work in a community and become more independent.
Sokunthy found it challenging at first as there wasn't a lot of encouragement from parents for their children to go to the reading center's or to participate in the youth groups.
However, after completing her community mapping she was able to recruit young people to become members of the youth clubs, which grew to 18 members (17 females, 1 male). But then she was informed that the school no longer has a room available for the youth club. Not to be discouraged Sokunthy trained the youth club members to go to the houses to read to and teach the children.
Every morning Sokunthy works at the Education Centre for All, which is a learning center supported by SIPAR, and helps the children to read and write. In the afternoon she teaches youth in the youth club how to teach English, how to be an advocate and how to raise awareness about domestic violence and other issues in the community. She then supervises the Youth club to teach the children.
"I want to become a teacher and help children with informal education. My experience has made me learn a lot about children and how to teach them.
I feel my biggest achievement is seeing the change in attitudes in the community and that now school drops outs are more interested in study. I feel braver now, I'm better at making decisions and planning and the community is more focused on working together and placing more importance on education".