By: Aide et Action, Youth Star Cambodia's Partner
——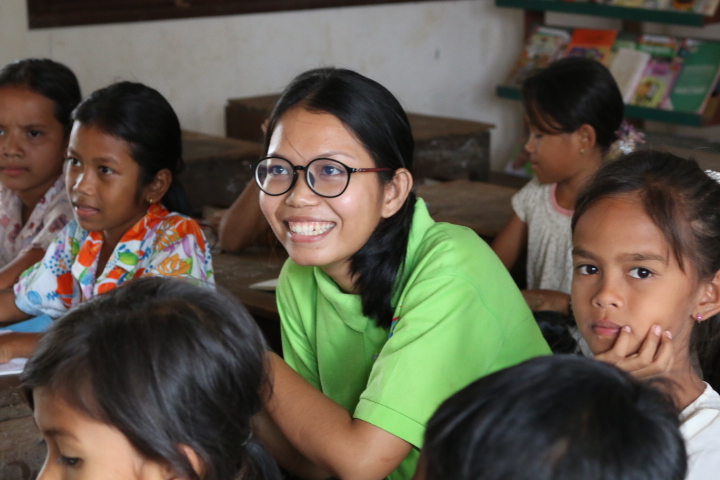 In Rung Roeung commune, Kampong Thom, a rural area of in central Cambodia, 22-year-old Sothea joined Youth Star program – partner of Aide et Action – as a volunteer in November 2018, straight after graduating from her degree. Sothea teaches extra classes in Khmer Literature and English to a total of 90 students every day, which is almost 50% of the entire local school. By attending Sothea's classes, the children of Rung Roeung commune have an opportunity to increase their access to quality education and build knowledge, skills and confidence in other areas.
In Cambodian public schools, poor teaching quality is a major barrier to education as teachers are paid low salaries, they face over-crowded, under-resourced classes and they often don't receive adequate training required to adopt effective methodologies. The main component the Youth Star volunteer leaders' work is to increase literacy at village level and to equip young people with the tools needed to succeed in school and to participate in improving life in their communities.
Strengthen children's confidence
In her youth club, Sothea selected 22 members (in grade 4-6) to represent the club's mission and act as role models in their communities. The Club focuses on three key learning areas: literacy; numeracy; and life skills. Every week, the young members run reading promotion activities in the community to increase literacy skills among children. Armed with a bag of books, a bag of colouring pencils and a big tarp to sit on, they take their reading materials wherever they think they're needed most.
Sothea says that when she first joined this commune, the school children used to go straight home after school, but since the club has boosted their self-confidence, they're sticking around and participating in extra-curricular, after-school activities. "The best part of my work is teaching the children and watching them take what they're learning to help each other and their community" says Sothea.
Sensitive progress
Nearby in Preah Damery commune, youth leader Dyna teaches English classes to 86 students every day and his trusty club members teach Khmer literacy classes in their homes to students that require some extra support. When Dyna began teaching English here he was teaching the most basic level, now however, he says the children are improving greatly and he has seen big leaps in the class tests he administers regularly.
Having taught his cub members lessons on environmental awareness, Dyna is also happy to see them share their knowledge with the other school children and doing regular clean-ups in their area. Local commune counselor Nay Cheav is noticing the positive impact of this newfound environmental education too. "The children are actually changing mindsets in the community, educating others on how to look after the environment and showing us how to clean up and be better citizens" he says. "Rubbish here was a problem but now the amount of plastic pollution has decreased" he adds, impressed with the children's actions.
Inestimable support
Volunteers like Sothea and Dyna are on hand to identify children at risk of dropping out through tracking of class progression and attendance records in consultation with school and community authorities. This support is invaluable to increasing opportunities for out of school children to reintegrate back into the public school system where possible.
Through our partnerships under the Cambodian Consortium of Out of School Children, we've reached almost 60,000 out of school children and trained almost 5,000 teachers across Cambodia. To our partners, volunteers and to all the teachers working tirelessly in Cambodia's public schools – thank you! You are providing access to quality education for the children that need it most.