Latest From Youth Star

Kampong Thom was the location for a supplementary weekend training program. In cooperation with Aide et Action and Kampong Thom Provincial Office of Education, the weekend focused on core competency development in tutoring, small proposal writing and community campaign organizing.

12 new Youth Star volunteers have successfully completed their training and been placed in the field. With a higher ratio of female volunteer for the first time, this rounds action districts comprise of Kampong Svay, Prasat Balang and Stoung districts in Kamong Thom Province, and Kampong Trabaek, located in the Prey Veng Province.

Youth Star Volunteers and their youth clubs based in Prey Veng and Kampong Thom Province organized International Children's Day to raise awareness about children's rights.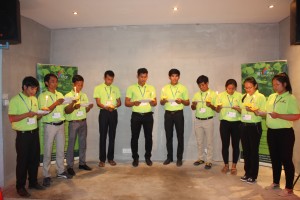 10 new Youth Star volunteers have successfully been selected, trained and placed in the target communities. The 10 new volunteers will work in communities of Prey Veng and Kratie provinces.