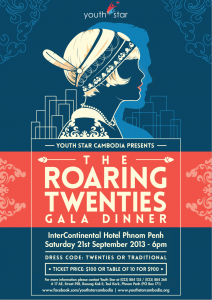 On September 21st Youth Star Cambodia hosted its eighth annual fundraising Gala dinner.
The 1920s theme was chosen to celebrate this decade of innovation and liberation which symbolises the work of our volunteers that have brought democracy, opportunity and on-going positive change to the communities they have worked with.
The night was an absolute blast with fantastic music and dance. Kok Thlok Artists Association blend of Western and Khmer music 70s rock and pop and DJ Lion's varied set had the crowd dancing until 11:30pm. Highlights included Tiny Toones performing the Charleston and a best dressed competition.
It was a perfect way to honour our volunteers and recognise all the support of our friends who have helped Youth Star empower communities since 2005.
"I was originally very shy and scared to go somewhere where I didn't know anybody or know about the customs. Now I have made new friends, become more confident and have become a facilitator of change and part of this wonderful community that is now accepting of new comers and knows how to run youth groups and mobilise its members for positive change''.
Ms. CHORN Sopheak, group 17 volunteer, Sambo district, Kratie
The event raised $35,330 and was attended by 470 guests that included current and former volunteers, the Youth Star Board of Directors, government officials, foreign dignitaries, civic leaders; scholars and various professionals from multinational corporations and national and international organisations.
The attendance of such an array of people was indicative of the continued support received by Youth Star and the value placed on volunteerism and Youth Star's young volunteers ability to affect positive, lasting social change.
Youth Star Cambodia would like to give a special thanks to our volunteers, the Gala committee members and the table sponsors and lucky draw sponsors. We also extend our gratitude the gold sponsors Manulife and Dermalogica and our silver sponsors AusAID, Attwood Import Export ltd, Hotel InterContinental and SL Cambodia whose assistance made this night a roaring success.
For more photos from the night. Please visit our Facebook page.