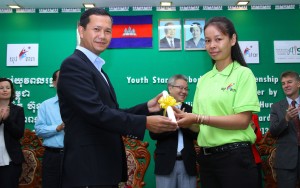 On Thursday June 13th we presented our inspiring volunteers with certificates of completion.
This event was held in order to recognise their 12 -18 months service working with under-served communities.
The glorious event was attended by over 300 guests including 60 former volunteers.
We were honoured to have the certificates presented by H.E. Dr. HUN Manet. We would also like to extend our thanks  to H.E. Oknha Dr. Mengly J. QUACH for allowing us to use the American Intercon School as a venue.
The ceremony was a huge success and allowed us to show our deepest appreciation to all our amazing former volunteers and to reflect on the enduring change they have impacted upon the communities they have worked with.
Visit our Facebook page for more photos from the event.